Srinagar: A strong intelligence network and the surveillance of militants on cellphones and closed circuit television (CCTV) footage has helped the government forces kill a record number of over 245 militants this year and arrest several over ground workers (OGWs) in Kashmir.
The number of militants killed this year as well as in 2017 was one of the highest. The security forces have also arrested many OGWs.
Inspector General of Central Reserve Police Force (CRPF), Ravideep Sahai, said that the number of militants killed in the last two years was higher "due to the better flow of information" by way of gathering of information about the movement of militants.
Although the tracking of cellphones of militants was being carried out for the last several years, it has become more common now. In July 2013, the police had disclosed that chief operational commander of Jaish-e-Muhammad, Qari Yasir, a Pakistani resident, was in touch with one over ground worker on his phone who helped him stay at a house in Lolab, where he was later killed in an encounter.
However, in recent times, there have been a lot of videos and pictures of militants on social networking sites that has only helped the forces in cornering them in the cordons, said a police official. "The militants give away their identities by posting videos and photos on social networking sites which is only helping us to reach them," he added.
On 25 November, the government forces killed six militants, including Hizbul Mujahideen commander Umar Majeed Ganaie alias Hanzalla, who had posted his picture in front of Ghanta Ghar at Lal Chowk in Srinagar on the social networking sites, stating that the militants carried out the meeting despite heavy presence of forces in the area.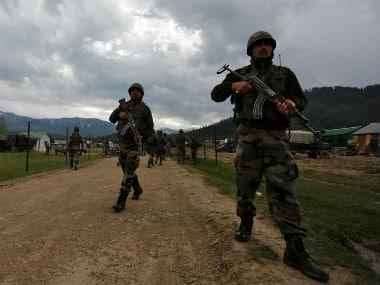 Police officials said that the CCTV footage and cellphone surveillance was only helping them detain many of the OGWs. Realising the peril of getting caught in the CCTV footage, Hizbul Mujahideen commander Riyaz Naikoo, in an audio footage earlier, said that the CCTV grabs create a "lot of problem for us, especially for our over ground workers (OGWs)." "We request with politeness all our shopkeeper brothers not to fix the CCTV cameras in a manner in which they record outside activities so that police doesn't get any evidence," he said in the video.
The police officials nabbed five JeM OGWs by identifying them in a CCTV at a local petrol pump after they shot dead a police constable at the shrine of Sheikh Noor-ud-Din Noorani in Charar-i-Sharief on 25 February this year, police records show. The call detail records (CDR) of the OGWs, who were from Pulwama (several kilometres away from Charar-i-Sharief), also confirmed their presence in the area.
Based on the CDRs, the police also ascertained the involvement of three militants and three other OGWs in the killing of PDP district president for Pulwama, Abdul Gani Dar of Rahmoo, who was shot dead on 24 April, 2017, while on his way from Pulwama to Srinagar, reveal the police documents.
Similarly, last year in June, two militants were killed in Sopore as one of their accomplices tipped off the police about their presence at a house in the area, after he was nabbed following CCTV footage in which he was caught throwing a grenade at the local police station.
A senior police official in south Kashmir area of Pulwama, a militancy hot bed in Kashmir, however, also said that "while many militants have been killed this year, there has been a steady increase in the number of those who have joined the militant ranks."
Source: Firstpost.com